The Benefits of Scenar Therapy
The Pain Genie Scenar is an advanced pain relief device and represents a breakthrough in accelerating the body's natural self healing abilities.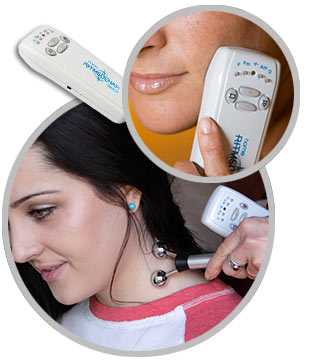 Developed by an elite team of doctors and scientists to keep cosmonauts in optimum health during space travel, it is now the treatment of choice by an increasing number of world-class athletes and medical professionals. It is highly effective in all forms of pain relief including neck and back pain, sports injuries, whiplash, fractures, arthritis, RSI, IBS, burns and aching joints.
As the Pain Genie is brushed over an area of inflammation or pain, gentle electrical impulses, similar to those produced by the nervous system, are registered by the body, triggering an accelerating the release of powerful natural healing compounds known as neuropeptides.
The results are usually immediate and long lasting, with most people able to achieve a dramatic reduction in pain, often within minutes.
With over 10 years of experience we are the official UK distributor of these products, supplying the public, therapists and doctors worldwide. We are the only organisation to supply a training DVD, a quick-start guide, comprehensive instructional manual, 2 year product guarantee, 28 day money back guarantee and package of additional benefits including tips and techniques in our members area. There is no programming or complex instructions, so it can be used almost anywhere.

To provide 'real effects' to accelerate health and resolve pain we uniquely provide four things that achieve this:
1) Genuine Scenar technology
2) Simple techniques that have evolved with experience over 10 years since the release of this remarkable 'self treatment device' . We have demonstrated these incredible effects in Europe, USA, Canada, Africa and Asia with our seminars, talks, training courses and events such as the "Back Pain Show at Olympia in London", the "Rude Health Show" in Dublin. We are leaders in the field of Scenar technology.
3) A wealth of experience in Energy Medicine with a network that gives us access to Professors, Medical Doctors, Therapists, Physiotherapists, and some amazing natural health practitioners who are leaders in their fields, we can show the chronically ill how to combine simple and often inexpensive protocols together with the Pain Genie Scenar treatment to get results that are often described as amazing or unbelievable.
4) The ability, if necessary to provide training that will transform your understanding and knowledge, described as 'life changing' by many. And, if you are a therapist (or would like to become one) the confidence to treat your patients with energy medicine at an altogether higher level.

The Pain Genie is certified for medical and therapeutic use and we will happily provide demonstrations showing the effectiveness of the Pain Genie Scenar technology.
Millions of people around the world simply put up with pain believing it is a part of life, the cost of getting older, being too active in sport or just trying to deal with injuries that do not appear to heal.
Now there is a solution to take control of your health. Learn more about the Pain Genie Scenar, watch our video testimonials, read various clinical studies, or contact us for more information.